Best Places to Visit and Things to Do in Nagasaki, Japan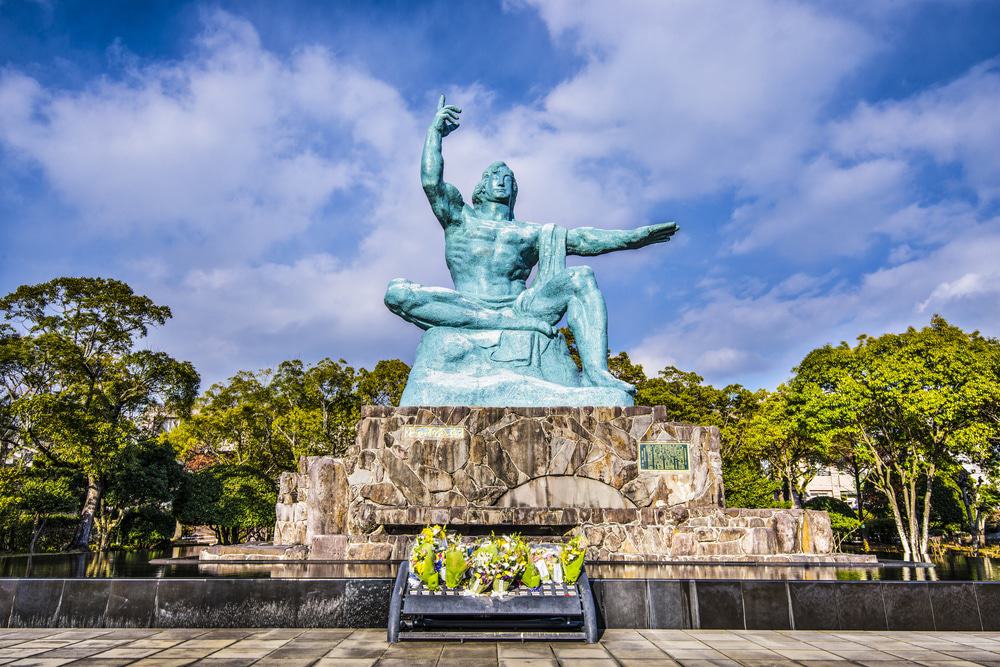 With a rich history and fascinating blends of Asian and Western cultures, Nagasaki has plenty to offer. Here are the best places to visit and things to do in this Japanese city.
One of the most important places to see in Nagasaki is the atomic bomb memorial Peace Park. This is where you can learn about the terrible bombing and the city's gradual recovery from the war.
Atomic bomb memorial Peace Park
Nagasaki, one of the two cities in Japan that suffered from an atomic bomb attack in August 1945, besides Hiroshima. Now a bustling port city on the slopes of the western point of Kyushu island, it is still a vibrant place that reflects the international influence of its citizens.
This park has been dedicated to the legacy of the first victims of a nuclear attack and the memories of those who perished in the blast. The central part of the park features the Peace Memorial Museum and numerous memorials and monuments.
Among them is the 10-meter-tall Peace Statue. The inscription on the front panel offers prayers for the peaceful repose of the victims and pledges on behalf of all humanity never to repeat the evil of war. It expresses the spirit of Hiroshima — enduring grief, transcending hatred, pursuing harmony and prosperity for all, and yearning for genuine, lasting world peace.
Glover Garden
Glover Garden is a romantic garden and open-air museum of historic buildings. It is a must-see for people who love Japanese history.
The main attraction is the Former Glover Residence, which was a prominent Western-style house in Japan during the Edo period. It was nicknamed the 'Madame Butterfly House' because of its resemblance to Giacomo Puccini's opera, Madame Butterfly.
There are also several other historic buildings here including those of Frederick Ringer and William Alt, English merchants who made their mark in Nagasaki's economic development.
There are escalators and stairs throughout the grounds of Glover Garden to make it easy for everyone to explore. The gardens are beautiful and well-maintained with water features, koi ponds and pavilions. There are also lots of directional signs and speakers all around to help you find your way.
Mount Inasa Observatory
A 333-meter high mountain locating close to the city is known for its spectacular view of Nagasaki during daytime and night. Often chosen as one of Japan's 3 representative night views, it is a must-visit while in Nagasaki!
The summit is home to the Mount Inasa Observatory. This is a great spot to stop and enjoy the view before or after hiking up to the peak of the mountain.
Besides the observatory, there are also many attractions and hotels located around Mount Inasa. You can have a relaxing break here or take a hot spring bath overlooking Nagasaki city.
Huis Ten Bosch
If you're looking to explore a little bit of European history in Japan, Huis Ten Bosch is the place to go. This theme park is based on a traditional Dutch town and is a fun way to get some culture while in Nagasaki.
This 152-hectare park features attractions, hotels, restaurants, and museums that are all replicas of old Dutch buildings. You'll also find windmills and canals, which create a beautiful backdrop for your photos.
The park has a theme park zone that requires an admission ticket, while the free zone is filled with rides and attractions that you can enjoy without paying. If you're staying at one of the official hotels, you can take a free shuttle to Huis Ten Bosch, so you won't have to worry about finding a spot to park your car.
Goto Islands
If you want to get away from the city for a bit, consider spending some time exploring the Goto Islands. These archipelagos are home to some of Japan's most famous religious sites.
There are several churches here that represent the era when Christians escaped suppression in Japan and sought refuge in this archipelago. If you're looking for a way to learn more about Christian life in Nagasaki, the Goto Islands are worth a visit!
For a more peaceful and spiritual experience, make sure to check out the oldest temple in the archipelago, Myojoin. It is said that a Buddhist monk Kukai went here after returning from China and prayed for the teachings he had received to one day benefit Japan.